Your Best Thanksgiving Feasts Near Canoga Park
It might not feel like Thanksgiving if you're spending it in Canoga Park, but that doesn't mean you can't feast like you're at Grandma's! At 10e, you'll find a gourmet prix fixe menu that elevates Thanksgiving classics to a new level. A four-course meal is yours for under $50, and the ambiance pairs well with the juiciest turkey of your life.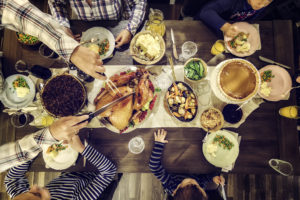 Prefer something a little more low-key and perhaps late-night? Los Angeles' Hard Rock Café is open from 11 – 11 on the holiday, and the regular menu is peppered with holiday treats. Go with your favorite burger and side, or taste the chain's unique take on the classics. It's a favorite pick for those who prefer a little less traditional while still staying all-American.
Where's the Turkey?
At 94th Aero Squadron, you're treated to a champagne buffet with plentiful breakfast and lunch items. A prime rib carving station, crab legs, turkey and all the trimmings are available until 3 p.m. with kid and adult prices. Do you have what it takes to tackle this massive buffet?
The Larchmont is another option for buffet lovers, with cider braised turkey and a seemingly endless dessert menu. Just $55 per adult, it's a tradition for many in the West Hills area. Come find out what all the fuss is about!