Topanga Overlook
Discover one of the best views in southern California at the top of Topanga Overlook, part of the Santa Monica Mountains National Recreation Area. At 3400 N. Topanga Canyon Boulevard, sweeping views of the cities below are a reminder of just how gorgeous this slice of paradise is. A popular filming spot, it's also a romantic date night idea, perfect for hiking, and simply a view that can't be missed.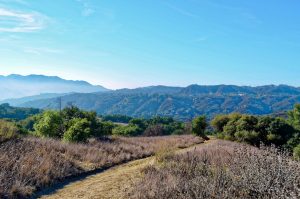 Accessible from Topanga Canyon Drive right above the San Fernando Valley, you'll be able to take in the Santa Susan Mountains, Santa Monica Mountains and San Gabriel Mountains in one fell swoop. Located on nine acres, there's ample parking and stunning native landscaping. Check out the interpretive displays, or pack a picnic lunch and dine al fresco at one of the many picnic areas.
Accessible, Comfortable Views
With maintained restroom facilities and plenty of benches, Topanga Overlook is suitable for all ages and abilities. There are options for hiking if you want to explore more of the natural landscapes, and plenty of paved walkways to make the picnic areas convenient. Ask your front desk staff about recommendations for takeout or picnic baskets and make a day of Topanga Overlook.
Open during daylight hours, arriving at dawn is the ideal way to enjoy the beauty of Topanga without any crowds. Bring a blanket, a thermos of coffee or tea, and watch the California sun rise in a unique environment. What will you discover at Topanga?