Royce's Arcade Warehouse
Looking for a fun family outing or date night idea? Royce's Arcade Warehouse is Chatsworth's premier arcade destination where you'll find old favorites alongside the latest in arcade gaming and technology. Head to 21817 Plummer St. and "party the retro way." Special events are popping up all the time, like the monthly arcade features where you'll be treated to throwback favorites like Frogger, Pandora's Box, Centipede and much more.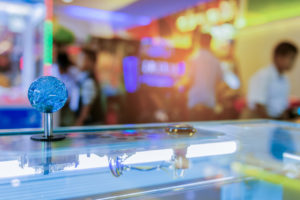 Private parties are available for all ages with so many options it's a breeze to customize with the on-site coordinators. The basic booking is $250 for an hour of unlimited play, and you get the entire arcade to yourself. A 50% non-refundable deposit is required and a one week's notice is ideal—although in a pinch, you can pay a rush fee for a quick turnaround.
Party in Style
The biggest retro arcade experience in California comes with plenty of party upgrade options. Get tables and chairs for just $100 for your entire event, which includes 30 chairs and four six-foot tables. Concessions can be added for $150, including bottomless popcorn and cotton candy, or opt for a "cash bar." For $150 you can add three interactive walls, music, and movies to enjoy.
New games are always being added and swapped out, so Royce's is a fresh experience every time you visit. However, the staple 80s classics like Air Hockey along with Pacman, Mortal Kombat 2, Street Fighter 2, Skee-ball and Donkey Kong are always featured. Open seven days per week and with room for up to 50 guests for private events, why not party like it's 1988?