Halloween Safety Tips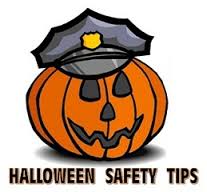 Halloween is always a fun holiday but it is also one that comes with its fair share of accidents. Here are a few Halloween safety tips for the weekend.
Travel in groups and stay within sight of your group at all times.
Never enter a home or a car alone.
Carry a flashlight, glow sticks or have a reflective costume.
Consider using reflective tape on costumes.
Make sure costumes do not drag the ground and cause tripping.
Parents, if your kids head out without you, be sure to know the route they are taking and have a set time they are to check in or return home.
Do not eat candy that has been unwrapped.
Parents, inspect all candy buckets before allowing children to eat any candy and dispose of any spoiled, or suspicious items.
Have a contact name and number in your young child's possession (or pinned on their costume) in the even they get separated or lost.
Ration the loot over the next few days. Consider donating excess candy to a charity.
Use a designated crosswalk when crossing the street, especially after dark.
Avoid alleyways and walking through yards.
Watch for cars as drivers may not be able to see you.
Have a wonderfully fun and safe holiday!