Greek Picks Near Canoga Park
Something about that salty, Pacific air makes you crave fresh Greek cuisine. Don't worry, Canoga Park is surrounded by some of the best Greek restaurants in California. Try the Panini Café which blends Greek and Italian fare in a low-key environment. Breakfast picks, Italian favorites, and of course Mediterranean delights are all menu features.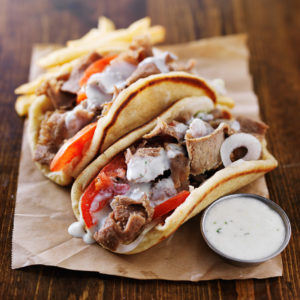 Gio's Fresh Mediterranean is known for sunny outdoor seating and the freshest seafood in town. A blend of Greek and Middle Eastern delights, there's nothing like pairing fresh olives with house pita. Try the falafel, Greek-inspired sandwiches, and shawarma.
Going Greek
At Sky Restaurant and Lounge, every craving you may have is covered, from cushy seating to hookahs or the freshest shellfish in the city. It's the perfect pick for date night, a casual lunch, or a night out with a group of friends.
Don't miss Daphne's California Greek, a counter-serve restaurant with an expansive menu. Also available for catering, you have your pick of fresh-carved gyros, grilled shrimp and hummus, a variety of pita sandwiches, and the famous fire feta fries. Where will your taste buds lead you?