Glowzone Los Angeles
A brief drive from your hotel brings you to Glowzone LA, the area's premier glow-in-the-dark laser tag, ropes course, rock wall, bumper cars, mini-golf, and maze mecca. At Atomic Rush, you can take on a race with up to three of your friends, touching as many of the glowing squares on the wall as possible to determine the winner. The City Vault Laser Maze pits you against the clock to reach the opposite wall, all while avoiding the lasers, secret agent-style.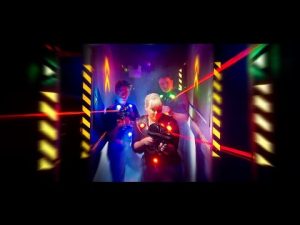 The challenging mini-golf course is 18 holes with a number of glowing obstacles to up the ante. You can take on I-405 in your bumper car, spinning and racing with up to seven others (children are allowed with parental accompaniment). The City Rockwall offers a new kind of challenge, with 10 separate climbing walls up to 20 feet tall.
Light Fights
At the Skyscraper Ropes Course, you're harnessed into the air to fly and swing through a nine-foot tall obstacle course. Otherwise, you can head down to the underground, 2,400 square foot laser tag arena where up to 30 players can battle it out at a time.
Book a private party for up to 24 guests with your own room and "just for you" challenges, or book their special rooms like Ballocity, Star Lounge, Gamer Alley or Electric Avenue. Fratelli's New York Pizza is on site dishing up fries, wings, chicken bites, mini corn dogs, and an impressive array of salads, pizzas, pastas and more. Are you up for the challenge of a lifetime?