German Grub in Reseda
In the mood for some rich, creamy grub with plenty of protein and carbs? There's some killer German fare in the Reseda area perfect for a hearty brunch or night out. Start at Brats Brothers, where brats are their specialty. Choose from beer infused smoked pork, spicy smoked pork, smoked beef and garlic, and more! Of course, a craft beer is the perfect pairing.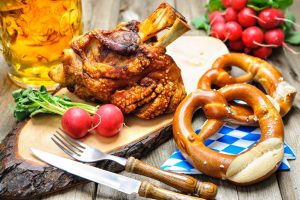 Steingarten LA features a stein-laden happy hour Monday-Friday and a menu with Hungarian sausage linguine, chicken schnitzel pasta, Belgian waffles, apple strudel, and an eclectic mix of burgers. Get three sausages of your choice for just $23, or indulge in some Korean BBQ nachos or a big, soft pretzel.
Fill'er Up!
At Wirtshaus, you can get a birthday boot of German beer, whether it's your special day or not! Their lentil soup is legendary, and the wiener schnitzel is what brings German grub lovers from around the LA area. New brunch items are always popping up, so check out the latest additions in person on a Sunday.
The Swiss Chef Restaurant is a must, with their cheese fondue for two topping the list of drool-worthy fare. No matter what you're craving, Reseda's German restaurants have you covered.