Delicious Thai in Woodland Hills
The Canoga Park area might be known for locally sourced, organic fare and some of the best Mexican and seafood around, but when only Thai will do, you're in luck! Some top Thai restaurants are peppered around the region, like the Exotic Thai Café that specializes in authentic fare for lunch and dinner, such as ginger or garlic stir-fry with your choice of protein, satays, pineapple curry, and sweet, sticky desserts.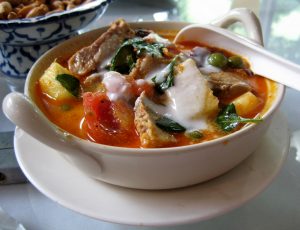 Thai Chaba offers delivery or dining in a casual environment. Their spicy eggplant tofu, garlic green beans, stuffed angel wings, and chicken teriyaki meals helped put them on the map. Try the hunan chicken with steamed chicken breast in a Thai garlic ginger sauce, and top it off with pan-fried Indian-style naan with brown sugar and condensed milk.
Top Tier Thai
At Red Ginger, traditional Thai and sushi are fused together in a contemporary setting. Start with mixed tempura and soft-shell crab before moving on to the smoked salmon skin salad. The caterpillar roll with eel and cucumber topped with avocado is divine, followed by their famous fried banana for dessert.
There's Little Orchids Restaurant for authentic fire spiced to order, and Thai Fusion Bistro for those looking for a more upscale dining experience. Where will your curry cravings take you first?