Check out Chinese in Chatsworth!
In the Chatsworth area, you'll find an eclectic mix of Chinese cuisine whether you're craving Hunan or Cantonese! The Great Wall Chinese Restaurant is famous for their very extensive menu that's both veg- and carnivore-friendly. Complete dinners can include a choice of soup, one egg roll, two fried wontons, steamed and fried rice and your pick of entrée from the beef, vegetarian, chicken, pork or seafood menu. For dessert, candied bananas, lychee fruits and candied apples are all available.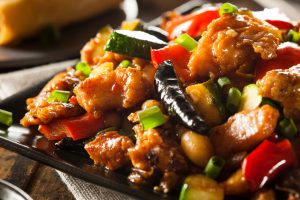 The Garden Wok is a beloved vegetarian-only Chinese restaurant serving up fresh, local ingredients with rich and tangy sauces. There are plenty of mock meats for those who want an extra dose of protein, and the desserts at this hot spot can't be beat. Even omnivores can't get enough of the Garden Wok!
China Delights
At Tampa Garden Chinese Delight, health-minded diners go straight for the healthy menu where steamed rice and veggies, plain chow mein, "happy dumplings," (rated by the New York Times as the number one handmade dumplings in the state!) noodle soups, and pancakes are on the menu. Chinese home-style is popular for those after authenticity.
Also check out Golden City Chinese Cuisine for your classics. Lobster and crab, duck and chicken, sizzling plates and scallops, shrimp and seafood are all menu highlights. No matter where you go, you can't go wrong—the tough part is choosing where to begin!