Celebrate the Fourth of July!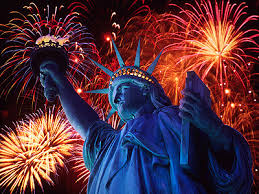 One of America's most loved holidays is here and it is time to celebrate in style. Enjoy a number of July 4th celebrations in the valley.
Make it a full day of celebrations in San Fernando Valley. Head over to Hansen Dam Recreation area for the day. Bring your swim trunks and take a dip in the lake. Have a picnic with your family and friends and relax with a game of horseshoes or frisbee football.  The fireworks show starts at 8:30 pm but the park opens at 10:00 am. Best part, it's all free! No parking or admission fee all day.
Studio City is hosting an evening of family fun. Head over to the CBS Studios for some live music, food, fireworks, kid friendly activities and more. Gates open at 4:30pm. You can even get VIP rooftop viewing for the grand finale. Get all the details online.
Irwindale Speedway is hosting a 'Day After the 4th Celebration' Saturday, July 5th for those of you who want to extend your holiday celebration through the weekend. NASCAR races start at 7 pm and fireworks are set to follow at 9:30pm.
Throw on your red, white and blue, grab your lawn chair and head out to celebrate this great country we love so much.