Best Steaks in Reseda
Southern California knows how to do steak right, whether you're after a Wild West style prime cut or want to check out authentic Mexican fare that are beef-centric, like shredded beef enchiladas and tacos. Start the taste test comparison at Kravings, a Brazilian-style fusion restaurant serving brunch, lunch and dinner. Gauchos are at the ready with six types of steak (in addition to other meats) including coulotte, filet, sirloin, short ribs, rib eye and prime rib.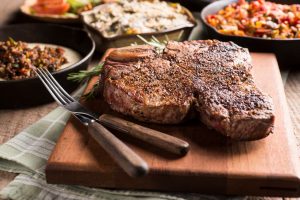 The El Paso BBQ Co. has a wide selection of barbeque sandwiches including Texas-style with "chopped beef on a bun" as well as steaks straight from the grill. Get the Kansas City steak, petite New York loin or the rack of BBQ ribs directly from the outdoor pit.
Steaks to Drool Over
The 94th Aero Squadron Restaurant is famous for Americana cuisine in a high-end atmosphere serving brunch, lunch and dinner. The beef patty melt is divine, and the butcher's block menu items like the prime rib roast beef, sizzling top sirloin, filet mignon, and beef kebobs make decisions tough!
For many, there's no place like Larsen's, where the aged meats include veal porterhouse, Japanese A5 kobe beef, grass fed filet mignon, and classic sides like creamed corn and lobster mashed potatoes. Get your appetite primed and ready!